As many come to find out, the diffs in the mini ruckus don't stand up to much hard use. Within a few runs of the stock nimh pack I already had a 2wd truck. I ordered a new one for a quick fix and went looking for an upgrade. I shimmed the new one and it lasted longer but it still rounded the gear at the outdrive. Another thread mentioned mini 8ight diffs working but the axles didn't reach. And someone else had modded duratrax gears and outdrives to work. (which I believe are still holding up) There were a few other suggestions, like mini quake ball diff works if you replace the bearings with 6x12x4. I currently have 3racing ball diffs for a kyosho mini inferno in my ruckus. The bearings for the ruckus diff slip over the outdrives and make a perfect fit.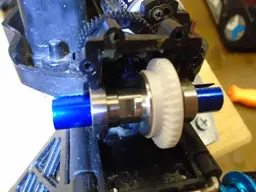 The only thing now is to get axles that reach.
Hot racing cvd axles work but I had to use the wheel bushings that came with the truck and sanded one to about half thickness and used it as a shim between the axle and the bearing. I left enough so the axle could ride on the bearing.
This worked great but did eventually pop out on me with some hard bashing.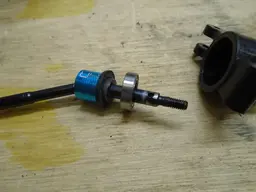 Another option is ECX Smash stub axles #
ECX8320
The center of the plastic hub needs sanded a little so the pin and wheel hex aren't too tight at the outside. The problem I had after doing that was the axles I found (swk4064) were now just short enough to pop out. They would need to be about 56mm and the only one that length I found has bigger balls.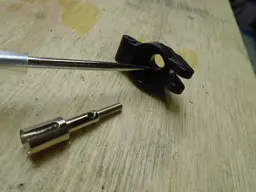 So my current setup is a bigger diameter stub-axle. It fits like it was meant to be, and the wheel wobble is nearly gone.
http://hpiracing.world/en/part/a557
It needs a larger wheel nut but fits the stock wheel holes.
And longer axles, sportwerks swk4064
The cup is bigger than the axle's ball but I have been running it with no noticeable wear. I have the axles meant for it and was going to dremel one ball smaller to fit the diff if I needed to but it's holding up.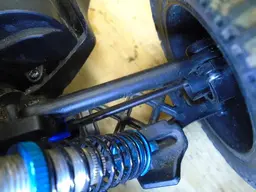 And I know it can handle some power because this is what's at the other end now.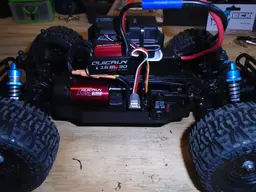 I don't abuse it but I also don't take it easy on this truck. I let my kids drive it. Skate parks. My sons ramming it with their Amps. I am pretty happy with it now but I know my frankenaxles are hardly a perfect solution... And that's why I'm posting. Hopefully help get some more ideas flowing here. I must thank everyone in the
rctech thread
that have shared info and made this possible. Hopefully I can get them over here too.