Wires arrived so I put the 3674 2250kV back in with the same 26 pinion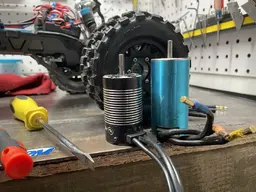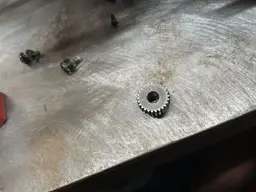 Added a fan to the motor - not really sure I need it, but the kid geeks out about fans so whatever.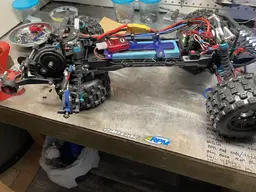 Runs really, really cool now even in the tall grass. Super easy to drive not really rowdy at all. This is definitely the right combo for it. Did a lot of ESC programming settled on punch full, brake 50%, drag brake 16%. Front end is a little low so I put another preload spacer in there instead of ditching weight because it flies so straight and handles well how it is now. One issue we keep having is cell 2 drops to 2.9v and sets the alarm off while the other two cells are still 3.05v-ish. It balance charges fine to 3.20v all cells. Battery is only a month old.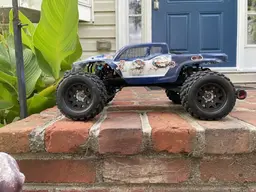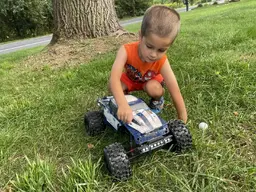 We finally got some rain after a very dry summer I've been trying to let the grass go uncut and get a chance to recover.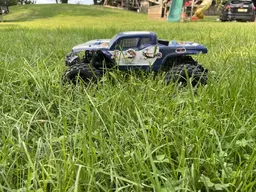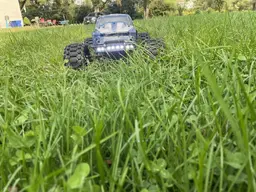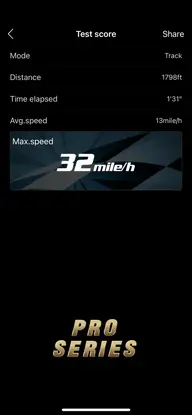 I was curious just how much mph the drag is costing so we ran it on the pavement. 40mph. I really thought it would be more. I have a 28T pinion we may try just for the hell of it, but to go any bigger ratio we will need to go to a smaller spur. Really happy with how stable it is at speed and easy to drive, it used to be really twitchy and just want to constantly wheelie.