I threw another hex on there that I had that I thought would work, but before we had a chance to go test again the MIP replacement arrived. They might be expensive axles, but being able to order service parts for them is pretty cool. Same experience I had with the GTR shocks.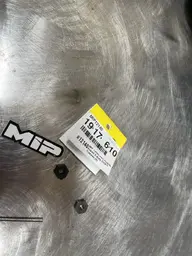 We got a chance to go out and test today.
I was initially so excited, because between 3 and 4 seconds into the pull I was able to get to full throttle (finally) and hold it...and less than a second later I realized it wasn't accelerating anymore, and as it passed me > 40mph it had a bad smell of burnt clutch (as I so eloquently narrated, I really need to stop talking).
Got it home, and you can see the abusive heat the spur took. It looks like I put my oxy-ace torch to it. The nut wasn't loose at all, the slipper was still set as I left it (full tight minus 1/12 turn). I'm just going to put an eliminator in it at this point. I really didn't want to do that, especially with a locker diff, but there isn't much choice. It'll also open up a few more options for tooth count on the spur gear.