When you're making a lowish speed turn on a high grip surface, the turning circle is just massively better for a left turn. This can not be fixed with trim or an upgraded servo as far as I can tell. The problem is that the part of the servo horn that goes over the servo's outer drive gear collides with the underside of the steering arm, effectively stopping the rack from turning further.
So, I fixed it...
Here's the problem: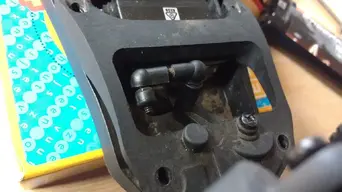 You can clearly see how on full right lock, the horn and the bottom of the steering arm collide, making it impossible for the servo to move over further.
How to fix the AMP steering linkage
This is the steering arm (still attached to the front cage of the chassis). As you can see it is fairly sturdy and it wouldn't hurt to take off some material.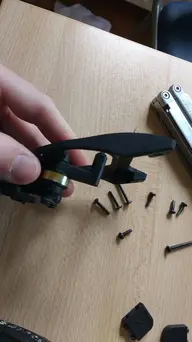 So I took a cutter to it and took off a good chunk: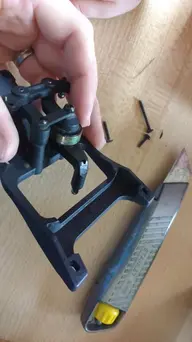 The issue is now gone, there is come clearance between the two parts at full right lock: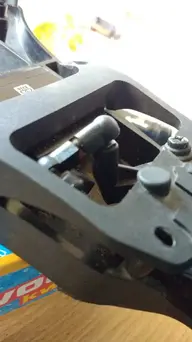 I tested it on my lawn and the difference was immediately clear. I can now do figure-eight tracks either direction around the jump, as it should be.