Kind of good admin
Staff member
Here is a simple guide to show you how-to install the Traxxas VXL driveshafts onto your ECX truck.
Parts needed:
Traxxas 6852X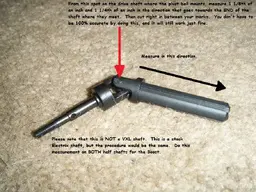 Instructions:
From the spot indicated on the image above, measure 1 1/8" and 1 1/4" inch in the direction that goes towards the END of the shaft where they meet.


Then cut right in between your marks. You don't have to be 100% accurate doing this and it will still work just fine.
I'm not the original poster of this idea - I just saved the image for my own records and I'm glad I did as the URC forum has been down for months and looks like it might not ever come back. All credit goes to "gimpdiggity"!