I have a 10 year old ECX Circuit Stadium truck (ECX1100) with a brushed 15T motor upgrade. I was thinking of giving it away, but then my 11 year old my son showed interest so we started running it around for fun. Pretty soon we soon we stripped the plastic gears so we upgraded to metal and replaced the spur gear and clutch. Then we changed the 10 year old shock oil, bought a couple of new batteries, and now it runs 'great' (at least to us newbies), except for being too rear heavy on jumps. So far I've spent about $75 in parts. I really enjoyed working with him to tune it up.
However the 10 year old plastic body is starting to crumble, and I see that many stock and upgrade parts are no longer available. Is it worth investing anything more in this, or should we just run it into the ground and start over?
The most fun I've had racing is when a friend and I had evenly matched cars - any recommendations for a comparable current model ($150 +/-) with fun upgrade options? We like sliding the tail, should we go to 4WD?
Thanks!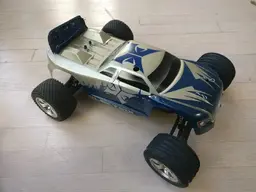 Last edited: