So I ordered a "New Rain 320A waterproof brushed ESC" to replace the fried stock unit on my Amp. I chose this ESC because it is claimed waterproof so probably slightly spatter resistant, and it has a much larger cooling fin than the cheapest ebay ESCs. I paid 10.44 euros for it. While the listing says 320A, this is the claimed burst current, continous is 60A max. So even if the specs are 3x inflated it should equal the stock unit and survive pairing with the 20T dynamite motor.
Here it is: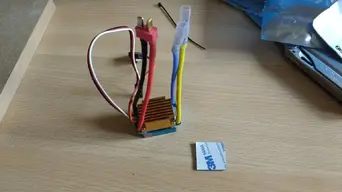 I like how you get some 3M tape with it for the ESC, and even a tiny rectangle for the on-off button. The soldering on the T-plug was quite nice, no complaints. I did put on EC3s instead since that's what's on all my batteries: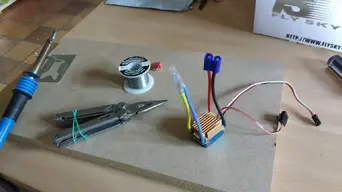 I also added one of these capacitors: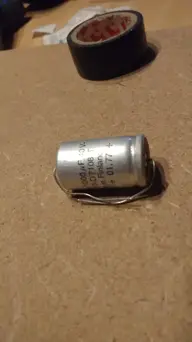 This should help to keep the ESC cool. When you pull a lot of current, the voltage dips and the ESC's built-in capacitors try to cover this. This heats up the ESC and while it does have thermal protection according to its (surprisingly legible English) manual sheet, I wouldn't be at all surprised if a $10 electronics device desoldered itself under some abuse.
Here is the cap sandwiched between the ESC power leads. I wish these weren't radial caps, it was a pain to squeeze it in and I would have liked it closer to the ESC itself.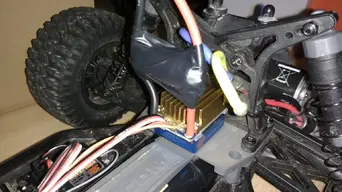 So does it work? Yes it does. I hooked it up to my (also new) FlySky GT3C and after it beeped at me twice, it responded to throttle and steering so all was well. However, it was slow as balls. Then I noticed it reversed like it was possessed (if you ever tried to reverse an amp with the stock steering setup you can imagine what that looks like). Apparently the forward was actually the reverse and vice versa. So I swapped the wires and toggled the reverse on channel 2 on the radio, and that was it! It was good to have the little amp running again, and I had forgotten how much pep it has, even on the stock NiMH battery.
I'll let you know how the ESC fares when I empty a few lipos in the grass... That's what killed the stock unit.